Why SUV Lovers Can't Take Their Eyes off of Mazda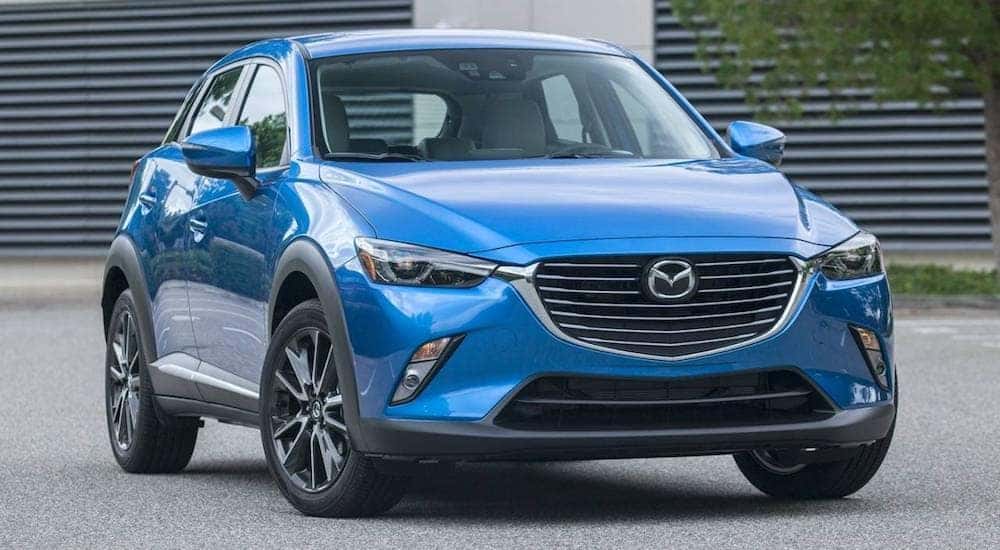 It's not uncommon for car commercials to invoke imagery intended to stir the senses. From performance montages that focus on speed, power, or off-road versatility speak to the vehicles themselves; but surprisingly, other influences are used just as (if not more) effectively.
Wind. Water. Even seemingly intangible effects, strategic editing, and dynamic sound effects. Combined, they engage our senses, prompting us to take notice of vehicles and romanticize them in our minds. With an emotional connection formed, we find ourselves more like to consider and even desire them.
But when we think of this kind of connection, its usually attached to performance, luxury or even classic vehicles. We may not normally associate soul-stirring engagement with family-friendly crossovers and SUVs. All-too-often, successful SUV styling feels less about exterior design and more about how much you've fit into the interior. Spacious Seating. Ample Cargo Space. Plenty of Technology intended to entertain passengers. To accommodate these features that are valued in a crossover or SUV, it becomes all too easy for the exterior to feel box-like or uninspired.
It's with this in mind, that Mazda stands out as an innovator of design, utilizing their KODO initiative to create an evocative and soul-stirring exterior for their Mazda SUV offerings.
What is KODO?
Defined as "Soul of Motion", Mazda's design initiative finds a way to utilize intangibles to inspire a truly unique aesthetic. Imagine lines and contours that emulate the blowing wind or the flow of a river; never so bold as to imply that they could be replicated by human hand, KODO uses such natural elements as the inspiration for its vehicle design. And in doing so, Mazda succeeds in seducing our senses…giving us a new way to look at traditional SUV styling, and showing drivers everywhere that utility and style are not mutually exclusive.
But KODO isn't limited to a Mazda's exterior. Offering a spacious and supportive cabin design, every dimension, placement, and component feels intuitive. As a result, Mazda's 'CX' line of SUV differ from so many competitors in the fact that they don't feel as 'forced' to be everything to everyone. This only serves to emphasize a very organic feel that echoes throughout their entire aesthetic.
But what about the vehicles themselves? Looking beyond what meets the eye, each celebrated member of the 'CX' family serves as a testament to Mazda's ability to create vehicles with substance.
CX-3
First introduced in 2016, the CX-3 moves into its third model year with an immense sense of momentum. Widely celebrated for its fuel-economy and overall drivability, one could argue that the subcompact crossover had a few more years of infancy before it would require any updates. And yet, Mazda's dedication to continual improvement means that it is already enjoying subtle refinements, such as a retuned suspension and upgraded safety features, enhancing its appeal.
Offered in three trim levels (Sport, Touring, and Grand Touring) the CX-3 is equipped with a 2.0-liter four-cylinder mated to a six-speed automatic transmission. Channeling 146 horsepower and a matching 146 lb-ft of torque, it offers confident acceleration (sprinting to 60 mph in 8.5 seconds) and the option of (standard) front-wheel or (optional) all-wheel drive. While diminutive, the CX-3 offers comfort and cargo options. And with excellent fuel economy (34 mpg highway) it's as ideal for commuters as it is for nomadic adventurers.
CX-5
Similar to the refinements enjoyed by its younger stablemate, the CX-5 spent last year celebrating its 5th anniversary applauded for its 'coming of age refinements'. Moving into 2018, it still honors a driver-centric experience, while accommodating passenger expectations of comfort and available technologies.
Made available in four trim levels (Sport, Touring, Grand Select and Grand Touring) the CX-5 is powered by a 2.5-liter four-cylinder engine paired with a six-speed automatic. Rated for 187 horsepower and 185 lb-ft of torque, it serves up 31 highway MPG and can be configured around front or all-wheel drivetrains.
Endearingly drivable, the CX-5 delivers a surprisingly dynamic prowess, ready for any stretch or curve of road.
CX-9
Despite being the 'elder statesman' of Mazda's SUV lineup, the CX-9 does more than simply endure. Moving into the 2018 model year, it thrives with both style and confidence, proving as eye-catching as it is capable.
And eye-catching it is, maximizing Mazda KODO to create an impact from every angle. The CX-9 offers a stand-out aesthetic that compliments its considerable proportions with a sculpted, sporty feel; excelling where so many of its competitors fail.
And while you're busy exploring the CX-9 with your eyes, take into consideration that its turbocharged 2.5-liter four-cylinder generates 250 horsepower and 310 lb-ft of torque, making it a confident performer. It's notoriety for 'driving like a much smaller car' is a reputation well-earned. As if inspired by the sporty feel of its contours, the CX-9 earns nothing but praise in terms of its overall drivability.
As with the CX-3 and CX-5, the CX-9 feels like a force of nature. Considering the intention, it only serves to indicate Mazda's success.
Sustainably Distinctive
To emulate the forces of nature in vehicle design might seem like a curious choice, but it speaks to the psychology of what we feel most connected to. While we may not actively think about it, our symbiotic relationship with our environment around us implies that it is our greatest connection of all.
Perhaps that's why so many SUV lovers can't take their eyes off of Mazda's distinctive offerings.  Sure, we appreciate each of these vehicles for what they are: capable, well-equipped, dependable utilitarian vehicles, but Mazda takes their appeal a step further.
Maybe we are drawn to the calm, relaxing and organic feel because it reminds us that not everything is about 'getting the job done'. Sometimes you need to stop, enjoy your surroundings, and appreciate how you got here.