Mazda SUV
The SUV segment has established itself as one of the most popular offerings in the entire industry. A good reason for that sentiment is the array of impressive offerings, and this surely includes Mazda's current array of nameplates. The brand's SUVs provide everything a driver could possibly want in a new car, and their affordable prices (especially when compared to similar rivals) only emphasizes why you should be pursuing these particular models.
Continue reading to see which of Mazda's offerings are worth pursuing. Then, once you've zeroed in on a particular model, see why you should be making that purchase at Keffer Mazda in North Carolina. Pairing this dealership with Mazda's SUVs is truly a match-made in heaven. Continue reading to find out why!
Why Keffer Mazda?Service CenterNew Inventory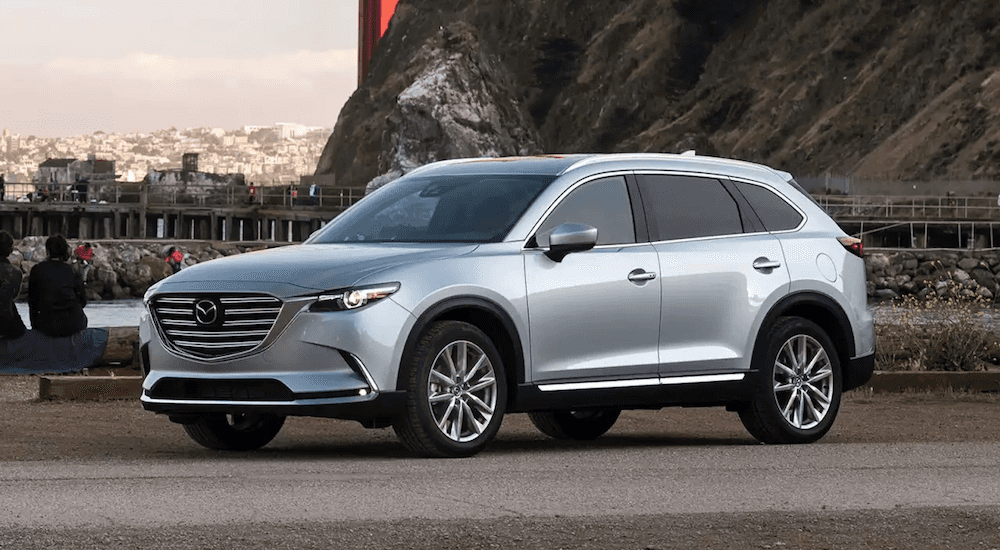 Mazda SUV
If you're currently in the market for a new SUV, you couldn't do much better than Mazda's array of offerings. Each of their nameplates provide the features and capabilities that drivers want from this specific segment. This includes powerful engines, an abundance of cargo space, and a host of notable safety functions. Ultimately, as a prospective buyer, it's unlikely you'll find a more appealing alternative elsewhere.
2018 Mazda CX-3
This particular Mazda SUV proves to be one of the most well-versed offerings in the entire class. While the engine isn't as powerful as some of the brand's other offerings, drivers can still expect a whole lot of muscle from the unit. The SKYACTIV-G 2.0-liter engine still manages to deliver 146 horsepower and 146 pound-feet of torque, which is more than enough power to overcome your fellow drivers on the highway. Despite this athleticism, drivers still can anticipate a 34-mile-per-gallon highway fuel efficiency when the SUV is equipped with the front-wheel-drive configuration (32-mile-per-gallon highway fuel efficiency with the all-wheel-drive system).
While drivers will surely appreciate the vehicle's performance, the occupants will appreciate the technological amenities that are included in the SUV. For instance, the MAZDA CONNECT Infotainment System provides drivers with easy access to an assortment of applications, including navigation and radio. If you do decide to jam out to your favorite tunes, then you'll surely appreciate the sound quality of the BOSE seven-speaker surround sound system. Finally, engineers cleverly included their Active Driving Display, which showcases an assortment of useful information right in front of the driver.
Perhaps best of all, this is one of the brand's most inexpensive options. Therefore, if you're looking to save some cash, this could be the ideal target.
2018 Mazda CX-5
If prospective owners are looking for a boost on those power specs, then they should consider the 2018 Mazda CX-5. After all, the SKYACTIV-G 2.5-liter engine delivers all of the muscle you're seeking at 187 horsepower and 185 pound-feet of torque. Similar to the alternative option, drivers can also expect solid fuel efficiency specs from this particular unit. Ultimately, the engine is capable of delivering 31 miles per gallon on the highway, which means you won't have to dish out extra money at the gas pump.
Of course, one of the major incentives of pursuing a SUV revolves around the vehicle's interior room, and there's no denying that the 2018 Mazda CX-5 delivers in that regard. The vehicle manages to deliver an incredible maximum cargo space of 59.6 cubic feet, which is more than enough room to fit whatever luggage or equipment you need to bring along on your journey. Plus, thanks to the 40/20/40 split fold-down rear seatback, owners can easily manipulate their interior to fit any combination of cargo and passengers. Finally, the inclusion of the Mazda Advanced Keyless Entry button means you'll never have issues loading that cargo into your CX-5.
2018 Mazda CX-9
Predictably, the brand's top-end SUV offering manages to crank out optimal power. The SKYACTIV-G 2.5-liter engine manages to deliver an incredible 227 horsepower (250 horsepower with the 93 octane premium unleaded fuel) and 310 pound-feet of torque, which prove to be some of the best specs in the entire class. Even with all of this power, drivers can still anticipate a 28-mile-per-gallon highway fuel efficiency.
Of course, if you're going to be operating a vehicle with so much power, you'll surely want the SUV to be equipped with a number of safety functions. Fortunately, the CX-9 delivers, providing drivers with an array of reliable safety features. The majority of these inclusions will reduce the chance that a driver ends up in an accident. The Lane-Keep Assist assures that the driver is remaining on their intended path, while the Traffic Sign Recognition will assure that you never accidentally blow through a stop sign. Even the Advance Blind Spot Monitoring system is a notable inclusion, as it could eliminate the chance of a devastating collision on the highway. The majority of these functions revolve around the i-ACTIVSENSE system, which is intended to provide optimal occupant protection.
Keffer Mazda
Now that you've determined that a Mazda SUV is the right choice, it's time to start shopping. Well, if you live in the Huntersville, North Carolina area, you can't do any better than Keffer Mazda. After all, the dealership is focused on providing their customers with the ideal buying experience.
Convenience
Prospective car buyers are surely seeking the most convenient buying process possible. While that isn't always possible at a traditional dealership, Keffer Mazda is focused on alleviating any of the stresses that accompany this endeavor. For starters, the dealership is incredibly easy to find. Located right off US-21 in Huntersville, North Carolina, drivers won't have to spend hours aimlessly driving around in pursuit of the premises.
Best of all, customers don't have to shift around their schedule to find time to visit the actual dealership. The sales department is open seven days a week, including starting at 9am on Monday through Saturday. The service and parts department are also open from Monday through Saturday, so you'll always be able to find time to get your car all fixed up.
Inventory
Whether you're looking to pursue the brand's CX line or any of their other vehicles, you'll surely find your picture-perfect ride sitting on Keffer Mazda's lot. The dealership is currently housing more than 150 new vehicles, meaning you'll essentially have no limits to what type of model you can pursue. Furthermore, for those seeking a used vehicle, Keffer has more than 50 pre-owned cars sitting on their lot, providing plenty of options for those with a limited budget.
Services
Customers don't solely have to rely on Keffer Mazda for their car-buying experience. Rather, they can capitalize on the dealership's array of services before and after they make their purchase. For instance, Keffer's service and parts department is focused on getting your vehicle back on the road, and their team of expert technicians will assure that your car is working as good as new.
Meanwhile, the business's finance department will find a logical payment plan that works for both sides. Instead of having to rely on an outside source like a credit union or bank for the necessary line of credit, customers can instead look to Keffer to provide them with the necessary financing.
Stop By Today!