Why the Affordable 2017 Mazda MX-5 Miata Shouldn't Be Underestimated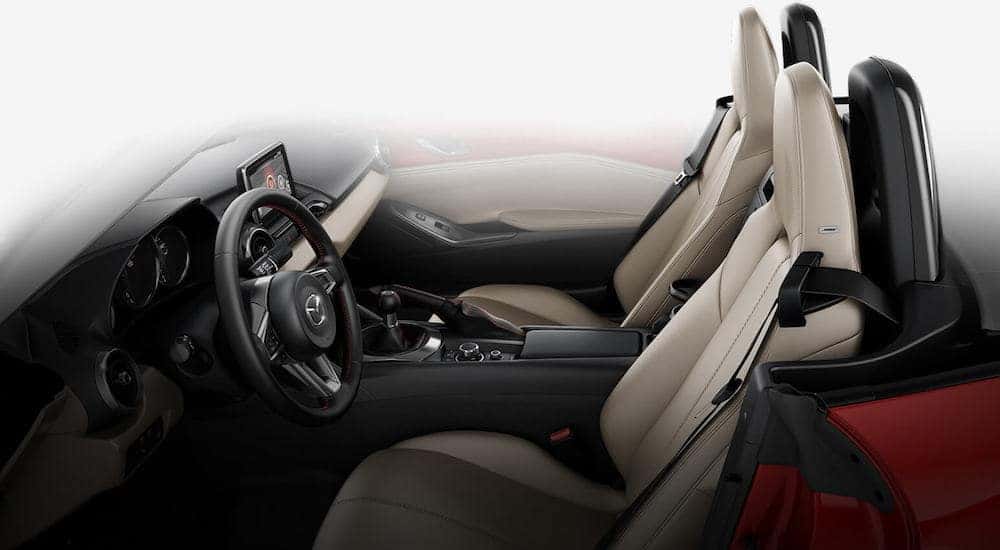 If you're in the market for a convertible, it can be tough finding an applicable model that's inexpensive. These types of cars tend to be pricier than the standard sedan, and this means plenty of consumers ignore their budget and opt for a vehicle that they can't afford. At the end of the day, this is probably the worst thing you could do.
Fortunately, this is an option for customers on a budget. The 2017 Mazda MX-5 Miata is one of the most affordable vehicles in the segment, as the sports car starts at only $31,555. If you've been shopping around for a similar car, then you're surely familiar with how good of a deal this actually is.
Of course, you may assume that the affordable price tag means you receive a lesser product. As you're about to learn, this isn't the case, as the 2017 Mazda MX-5 is one of the most impressive offerings in the class. Continue reading to see why this vehicle rises above its competitors, and you'll know exactly what vehicle you want to pursue when you're shopping for a Mazda in Charlotte…
Performance
If you're going to be pursuing a sporty car, you'll surely want that vehicle to deliver an optimal amount of power. Well, despite the fact that the MX-5 Miata's accompanying engine is relatively small, drivers can still expect optimal muscle from the unit. The 2.0-liter engine cranks out a whole lot of power, as drivers can ultimately anticipate 155 horsepower and 148 pound-feet of torque. This is more power than your typical convertible, and it's surely enough muscle to zoom past any of your fellow drivers.
Perhaps even more impressive are the efficiency specs, as drivers won't have to take constant pit stops to the gas station. Thanks to fuel-saving inclusions like variable valve timing and fuel injection, drivers will be able to capitalize on the impressive 35-mile-per-gallon highway fuel efficiency when the car is equipped with the six-speed Sport automatic transmission (33 miles per gallon when equipped with the SKYACTIV six-speed manual transmission). While you'll have the opportunity to save some money on the MX-5 Miata, you can save even more cash at the gas pump.
Design
Cosmetically, the 2017 Mazda MX-5 Miata might be the most impressive convertibles in the entire class. After all, the engineers came up with a one-of-a-kind design that allows owners to appreciate the fresh air without dealing with a bulky design. The vehicle's unique construction means the hardtop is essentially stored in the exterior of the ride, as the roof slips into the actual body of the vehicle to accommodate the part. In only 13 seconds, you can be zooming down the road without a roof.
Meanwhile, the brand's "KODO: "Soul of Motion" design" gives the model a unique look that is both elegant and sporty. For instance, the wider stance leads to a muscular, intimidating persona, while the cleverly designed roof and hood help to maximize aerodynamics. Ultimately, the exterior design won't only have your fellow drivers gawking, but it will also vicariously impact performance.
Options
If you're going to be purchasing a brand-new vehicle, you surely won't want to see an identical version of your ride driving beside you. Rather, you'd be looking to make your 2017 Mazda MX-5 as unique as possible. Fortunately, thanks to the brand's array of options, that's more than possible.
It starts with the exterior paint offerings, which allow a customer to customize their new ride. With seven options to choose from, drivers will surely find a paint color that fits their specific desires. The offerings include
Machine Gray Metallic
Soul Red Metallic
Crystal White Pearl Mica
Arctic White
Ceramic Metallic
Blue Reflex Mica
Jet Black Mica
Customers will also have the unique opportunity to choose from a number of interior offerings, as well. The options include
Black cloth/red stitching
Black leather/red stitching
Tan leather
At the end of the day, it's unlikely that you're going to find a Mazda MX-5 Miata that's identical to yours.
Technology
Of course, the 2017 Mazda MX-5 Miata is also equipped with a number of technological amenities that will influence your entire driving experience. It naturally starts with the MAZDA CONNECT infotainment system, which allows drivers to access a number of useful applications via the seven-inch full-color touchscreen display. Drivers can use the "voice command" technology as they're searching for their favorite song, or they can rely on the commander control to choose their preferred navigation application. If drivers do want to jam out to their favorite tunes, then they can do so via the impressive BOSE nine-speaking audio system.
The technological amenities don't end there. Rather, drivers will also have the opportunity to utilize the clever 4.6-inch LCD display, which allows them to access an array of useful information. The driver can view their fuel economy, vehicle diagnostics, and navigation, and this information will be displayed right in front of them. Therefore, they won't have to manipulate their body to view these important details.
Safety
While the 2017 Mazda MX-5 is a bit smaller than your typical vehicle, that doesn't mean that safety is compromised in any way. Rather, it's the contrary, as the model is equipped with a number of notable safety functions. Some of these features play a significant role in helping drivers avoid accidents altogether, including the Blind Spot Monitoring system and the Rear Cross Traffic Alert. The Tire-Pressure Monitoring System could even be considered a notable safety function, as drivers can rely on the unit to understand when the tires need a refill.
In the event of a collision, the extensive air bag system (which includes dual front airbags and side impact airbags) should provide every occupant with the necessary amount of cushion. The side impact door beams should also protect occupants, as the vehicle's construction should ultimately absorb the majority of a collision's energy. Finally, the three point safety belts will keep every occupant secured to their seat, thus preventing any vicarious injuries (like whiplash). If help is needed, then occupants can utilize the E911 automatic emergency notification, which will vicariously send emergency personnel to the site of the crash.