Make My Mazda a CX-5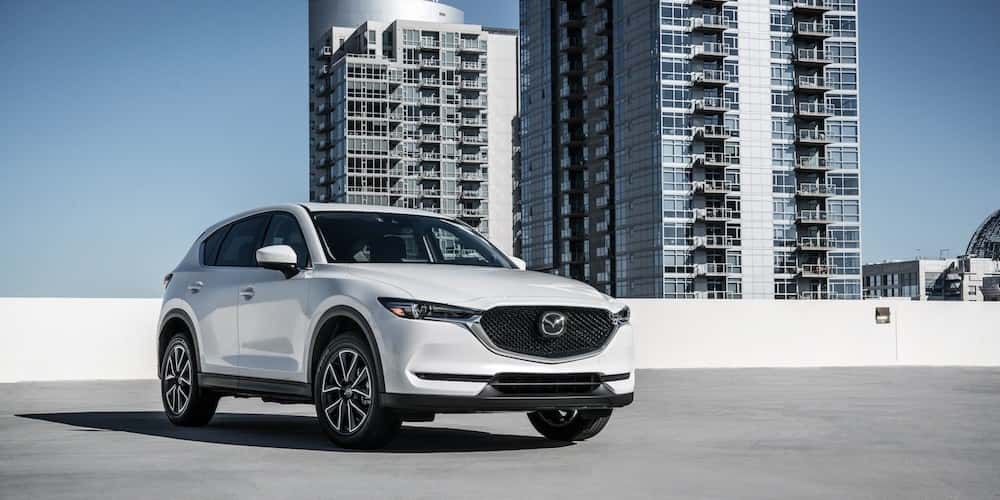 Some car manufacturers just get it right, and Mazda is one of them. Their 2017 model year lineup offers a little something for everyone, whether you're in the market for a sexy little convertible (the Mazda MX-5 Miata) or a nippy little hatchback (the Mazda3). Personally, after visiting my local Mazda dealership, I am lusting after the newly redesigned 2017 Mazda CX-5.
Part of it is just a style – I am unabashedly a huge fan of most compact SUVs. But the Mazda CX-5 isn't just any old SUV – it's a well-designed ride that offers above-par performance, making it pretty much the ideal SUV. Swing into your local Mazda dealership and you'll see exactly what I'm talking about.
Quality Performance
One thing I really like about the new 2017 Mazda CX-5 model is that you don't have a choice in engines. While that might sound odd, I prefer my cars to come with a quality engine, not a choice of engines that attempt to make up for a subpar base engine. The Mazda CX-5 delivers on this and makes a 2.5-liter four cylinder engine the only choice for the model. The engine gets 187 horsepower and 185 pounds-feet of torque, which is more than enough power for what I intend to use my CX-5 for (mainly errands and road-trips… I'm not exactly taking this thing offroading). The 2017 redesign also saw Mazda remove the manual transmission from the CX-5, making the six-speed automatic transmission standard, which is fine by me… I'm not a big fan of standard transmission to begin with.
One problem with preferring SUVs to sedans is that you lose out on fuel economy, which is why it's important to me to find a model that gets decent, if not above average, mileage. Luckily, the 2017 Mazda CX-5 gets an EPA-estimated 24 miles per gallon in the city and 31 on the highway. Certainly not fantastic when compared to a smaller vehicle, but definitely right on target for its class.
When it comes to actually driving the 2017 Mazda CX-5, U.S. News & World Report states "Steering is precise and controlled, making the CX-5 perfectly at home on long swooping roads or through tight curves. You may even feel like you're driving a smaller car instead of a crossover." That's important to me as I like my ride to be as smooth as possible. It's a big part of why I prefer the compact SUV class to the large SUV class – better handling and more agile movement.
It's easy to see why, between the solid engine, the good fuel economy and the adept handling, when it comes to shopping for a compact SUV, the 2017 Mazda CX-5 is at the top of my list.
Classy, Well-Equipped Interior
There's more to the 2017 Mazda CX-5 than meets the eye. Of course, the exterior is gorgeous – and its clean, classic lines come in your choice of seven colors: Deep Crystal Blue Mica, Eternal Blue Mica, Jet Black Mica, Machine Gray Metallic, Snowflake White Pearl Mica, Sonic Silver Metallic, and Soul Red Crystal Metallic, but the interior is truly what makes the Mazda CX-5 a quality ride.
The five-passenger CX-5 comes in a choice of three trims: Sport, Touring, and Grand Touring. The base model Sport sits on 17-inch wheels and comes with a seven-inch touchscreen with Mazda's infotainment system (known as Connect), a rearview camera, cloth upholstery, Bluetooth, two USB ports, and a four-speaker sound system. It's fairly basic, but then again, for a starting price of $24,045, it definitely offers a comfortable ride that is better appointed than many other base models in its class.
However, I spend a lot of time in my car and I like a car that has a lot of amenities. For $25,915, it's worth it to me to consider upping my trim level to the Touring. The 2017 Mazda CX-5 in Touring trim comes with heated front seats, simulated leather upholstery, keyless ignition and entry, dual-zone automatic climate control, blind-spot monitoring with rear cross-traffic alert, and two additional USB ports and speakers. Opting for the Touring trim also gives me the opportunity to add either the i-ACTIVSENSE package (think advanced safety features like lane departure warning, adaptive cruise control, automatic emergency braking and forward collision warning) for $625 or the Preferred Equipment package (universal garage door opener, navigation, moonroof, power liftgate and rain-sensing windshield wipers) for $780.
If I really wanted to go all out to the tune of $29,395, I'd choose the Grand Touring trim. That's would load the Mazda CX-5 up with a sunroof, automatic wipers, auto-dimming mirrors, a power liftgate, automatic turn-swiveling headlights, a navigation system, satellite radio, a Bose audio system, and the advanced safety features. The Grand Touring also offers the Premium Package, which equips the SUV with a heated steering wheel, heated rear seats, an active driving display, a windshield wiper de-icer and a two-position memory driver's seat. The Premium Package isn't cheap – it costs $1,830 – but if you live a cold, snowy climate, it might just be worth every penny.
Cargo Room
It's important to me that my SUV offers reasonable cargo room – otherwise, what's the point of having an SUV? I want a vehicle that I can easily load up with groceries, luggage, sporting equipment…really anything that suits my fancy. While the 2017 Mazda CX-5 doesn't offer best-in-class cargo space (that honor goes to the Honda CR-V), it certainly can fit plenty in it's cargo hold.
With the backseats up, the traditional cargo space offers 30.9 cubic feet of space to fill up. Of course, you have the ability to collapse the backseats and expand that cargo area to 59.6 cubic feet, or you can even use the clever 40/20/40 split-folding rear seats to further tailor your cargo space. No matter how you configure the cargo hold, you should have more than enough room to stash your stuff.
Make No Mistake, Make Your Mazda a CX-5
When it really comes down to it, buying a car is personal decision. Just because I am a compact SUV fan does not mean it's the right style vehicle for you. However, if you're considering jumping into a new compact SUV soon, then you'd certainly be remiss not to check out the newly remodeled 2017 Mazda CX-5.