3 Reasons Why Charlotte Should Crossover to Mazda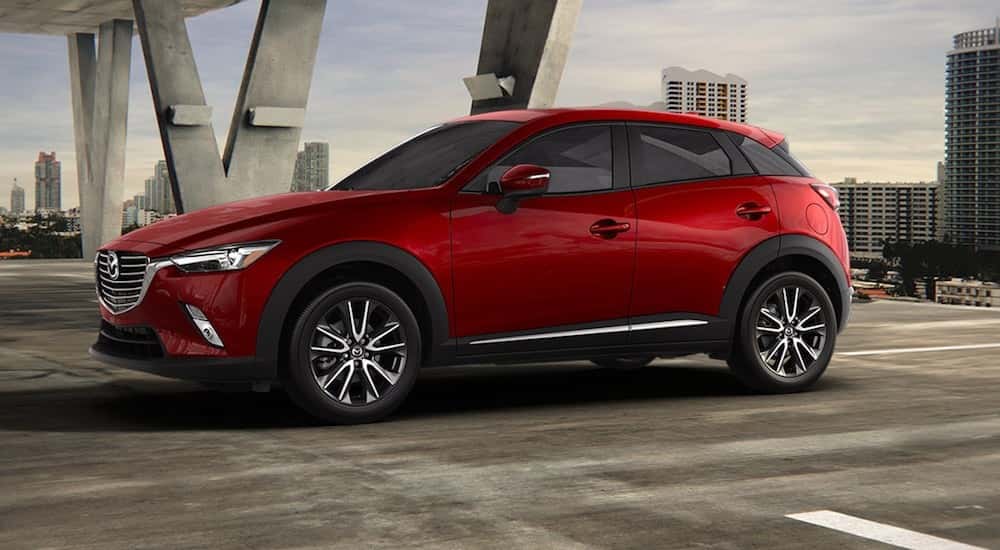 Named '2017 Best Car Brand' by U.S. News & World Report, and cited by the EPA as 'the most fuel-efficient auto manufacturer in the U.S.' there are plenty of reasons to like Mazda.
(And those aren't even the "3 Reasons" that we alluded to in the title…)
And if you're in the market for a new Mazda, Charlotte makes it easy. With only a few minutes of driving, you can guarantee yourself an easy and satisfying car buying experience, courtesy of Keffer Mazda. With countless new, used and certified pre-owned options, there is no shortage of choices to find the perfect vehicle for you. But of Mazda's wide range of available models, which best suits you?
Standing head and shoulders above all other models are Mazda's stellar crossover and SUV offerings. With all due respect (to the 4-door sedan, 5-door hatchback, Mazda 6 sedan, and MX-5 Miata) the Mazda CX-3, CX-5, and CX-9 are some of the most effectively realized crossover SUV offerings in the marketplace, today.
Whether your lifestyle demands the flexibility to move people, cargo (or a combination of the two), there is something here for you. From petite subcompacts to spacious three-row seaters, the offerings are tiered effectively for a tailor-made experience. And with a driver-centric design, Mazda excels at creating vehicles that meet expectations of practicality, yet remain fun to drive.
Reason #1: CX-3
Priced to start at $19,960 (MSRP), the CX-3 is an accessibly-priced, entry-level offering entering its third model year. Distinctively fun and trendy, the CX-3 is perfect for urban exploration and highway adventure. And with segment leading fuel economy (combined 31 mpg FWD, 29 mpg AWD) it will 'go easy on you' at the pumps.
Powered by a 2.0-liter four-cylinder, the CX-3 delivers a modest 146 horsepower and a matching 146 lbs-ft of torque. Modest? Yes. But above-average for the segment, and entirely capable for the types of driving one would expect once they slide behind the wheel. Factor in precision with steering and handling, and you won't be disappointed.
And whether you choose the (base) Sport, Touring or Grand Touring trim level, you won't be disappointed. Even the Sport comes Bluetooth-enabled (phone and audio) with an infotainment system based around a 7-inch touchscreen and a six-speaker audio system. These features alone outclass much of the entry-level competition, but factor in voice-controls, CD/USB/Aux inputs and the the rearview camera and you have a winning package before you even jump the trim. Once you do, you can expect enhancements to the upholstery and safety amenities, as well as the sound (which at the Grand Touring level is a seven-speaker BOSE system).
Named by the IIHS as a 'Top Safety Pick' (when properly equipped) the CX-3 ticks every box you could have for a subcompact crossover.
Reason #2: CX-5
One could argue that the CX-5 is even more successful. Priced to-start at $24,045 it rates as a new benchmark for small crossover SUVs. Reflecting a balance of performance, utility and style you'd be hard-pressed to find the drawbacks to the phenomenally-conceived CX-5 (and that's coming from someone who doesn't gravitate naturally to SUVs).
Powered by a 2.5-liter four-cylinder mated to a six-speed automatic transmission, the CX-5 serves up 187 horsepower and 185 lb-ft of torque. With a highway rating of 31 mpg, the CX-5 performs very well, and with high marks as to handling it may be among the best-in-class. This sporting mindset is further encouraged through the CX-5 appropriately-weighted steering and efficient braking.
Tim levels are similar to that of the CX-5, although the inclusion of the Grand Select trim bridges the Touring and Grand Touring, helping to redirect the CX-5 to an even more luxury-inspired destination.
Reason #3: CX-9
Last, but certainly not least is the top-of-the-line CX-9. With three-row seating and a wide-range of amenities, the CX-9 is an economically-viable response to in-class competition from luxury manufacturers. Because in many regards, luxury styling is exactly what the CX-9 is evocative of.
Powered by a 2.5-liter four cylinder engine, the CX-9 cranked out 250 horsepower and 310 lbs-ft of torque. Averaging 23-25 mpg combined, it is a strong performer, with responsive acceleration, dependable braking and high marks overall in terms of handling.
With (base) Sport, Touring, Grand Touring, and Signature trims, the CX-9 follows a strong precedent of configuration options set by its stablemates. Priced to start at $31,520 MSRP, it serves up the perfect option for anyone who may be gun-shy about an Audi or Volvo.
But Wait…There's More
You want even more reasons? While Mazda's offerings within the current model year provide a lot to be excited about, you can also find extensive used, and Certified Pre-Owned inventory that are well-deserving of a look.
When considering Mazda Certified Pre-Owned, consider the benefits. All vehicles but be less than six-years old, and have been driven fewer than 80,000 miles. While that provides some valuable assurance of an extended life, the real assurances come in other forms.
First, the knowledge that each vehicle has passed a 160-point inspection to ensure that it meets factory standards, as well as the assurance that any parts or systems that do not meet those expectations are replaced or refurbished with Mazda-certified parts. Then consider the inclusion of a 7-Year / 100,000-Mile Powertrain Warranty (from original in-service date) and 12-Month / 12,000-Mile Additional Limited Warranty (from the certified retail date). With no deductible, 24-hour roadside assistance and transferable warranty coverage, there are plenty of reasons why a CPO Mazda may be right for you.
The Right Mazda For You
The decision is yours. And whether you're interested in the 2018 crossover SUV offerings, or your dealership's pre-owned inventory, there is no shortage of options. Our advice? Look to Mazda, Charlotte…and you won't be disappointed.