New Mazda 2019 Mazda3 Lease and Specials in Huntersville NC for Sale in Huntersville near Charlotte NC
2019 Mazda3 Lease and Specials in Huntersville NC
---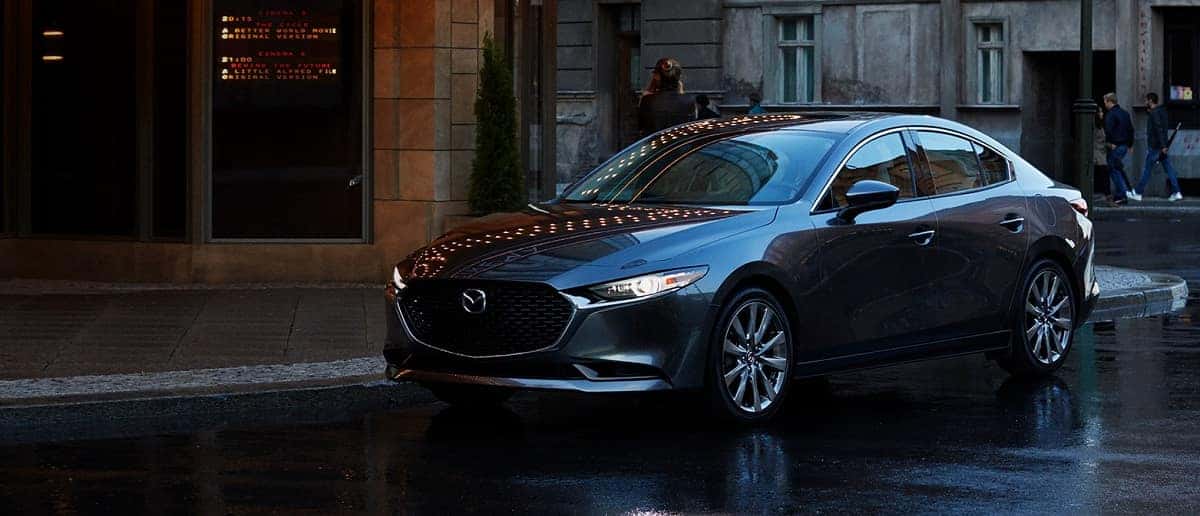 *Not actual vehicle
Mazda3 Lease Specials and Finance Offers in Huntersville NC near Charlotte
Why Lease or buy 2019 Mazda3 in Huntersville NC
Compact sedans are everywhere on the highways today. Just about every major automaker has its own compact sedan, but all aren't created equal. For 2019, the Mazda3 is offering a more refined appearance and more refined features. Consumers can purchase this vehicle in a standard sedan or a hatchback. Mazda will be giving this sedan wheel sizes that are between 16 and 18 inches. Even the suspension has been tweaked for better performance. For those who choose the hatchback model, this car will come with a six-speed manual transmission. On the other hand, the standard sedan will equipped with a six-speed automatic transmission. Unlike the majority of other automakers, Mazda has decided to do without any turbocharging. There are a number of Mazda3 specials that consumers can find near Charlotte Mooresville Davidson.
*Not actual vehicle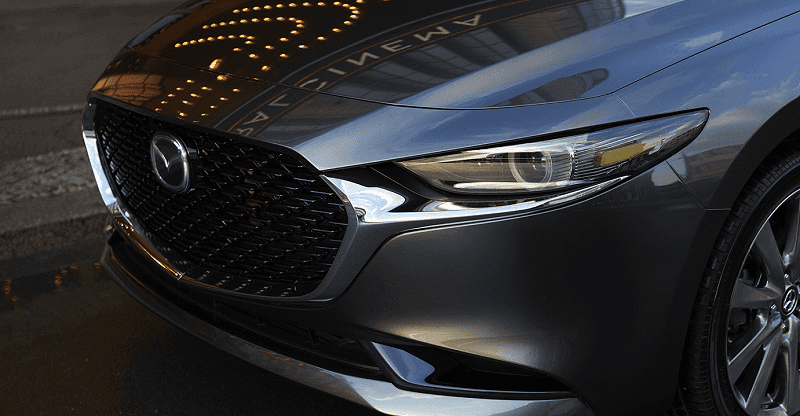 Exterior – Mazda3
The 2019 Mazda3 has a crisp finish that's smooth and elegant. You won't find too many compact sedans that possess this amount refinement. This vehicle is perfect for those who aren't into flashy things. The all-new Mazda3 comes equipped with 16-inch aluminum alloy wheels as well as slanted LED headlamps. These headlamps just so happen to possess daytime-running LEDs. One of the best features here has to be the matte-finish grille. This particular vehicle stands out thanks to its fine exterior craftmanship. Beautifully crafted contours can be seen on the side doors as well as the hood. The way natural light hits the surface of the Mazda3, it seems to create intriguing shapes and depth.
*Not actual vehicle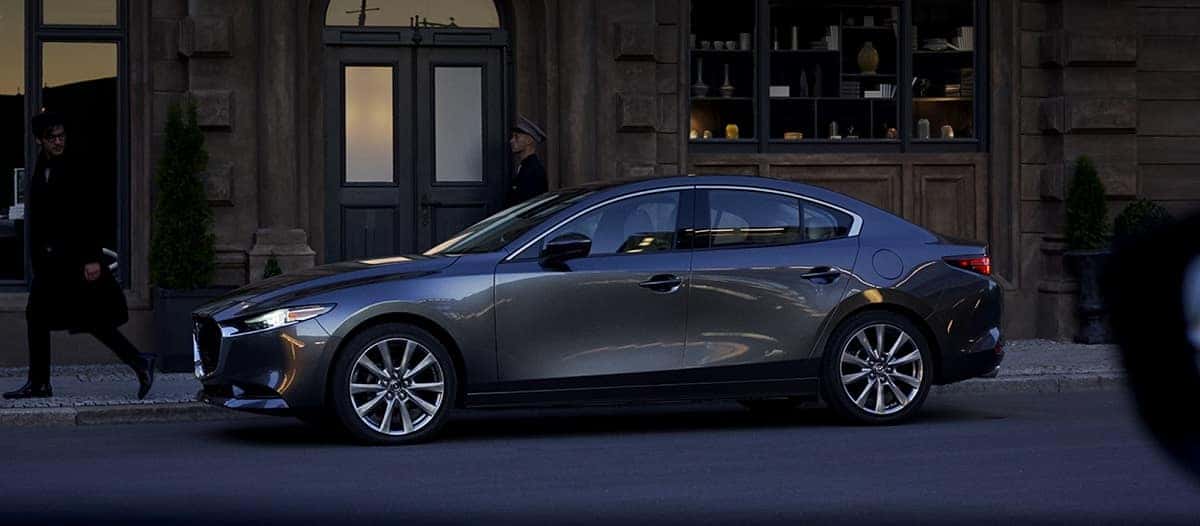 Interior – 2019 Mazda3
If you're in Huntersville North Carolina, then you could certainly take advantage of some Mazda3 specials. The interior of this vehicle has been meticulously crafted for practical reasons. Convenience is the key as many of the car's controls are in arm's length. Mazda has done a good job of removing any clutter in this cabin. Though this compact sedan is quite small, it still provides an airy feel. The Mazda3 has perfect symmetry in its interior as well as a uniform environment. The design of the dash area is very unique thanks to its creases and folds. The sedan's air vents lineup perfectly all the way across the dash in one linear motion. This vehicle sports one of the quietest cabins in its class thanks to possessing top-tier, sound-dampening material.
*Not actual vehicle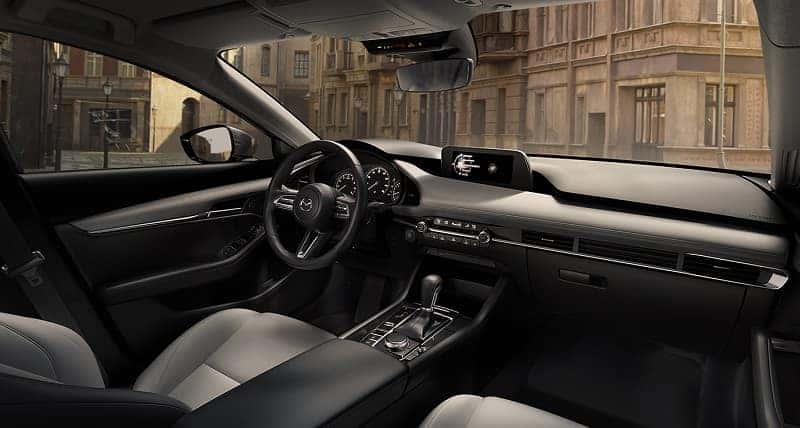 Mechanical – 2019 Mazda3
The Mazda3 has top-of-the-line engineering, and there aren't any turbocharges to discuss here. The mechanical hardware of the 3 perfectly works by producing a highly efficient engine. This four-cylinder is 2.5 liters in size, and it comes equipped with variable-valve timing. Drivers will get as much as 186 horsepower as well as 186 pound-feet of torque. It has been estimated that this amazing sedan will produce up to 35 mph on the open highway as well as 26 mpg in the city. Consumers can expect to go from zero to 60 mph in under 7.2 seconds. The 2019 Mazda3 has also been tested to reach at least 6.9 seconds from zero to 60 mph. In other words, the driver and driving conditions will are manipulated for each individuals depending on their skill behind the wheel. Though this particular engine lacks the low-end power that turbocharges provide, it still provides a constant flow of power throughout the gear shifts. Both engines of the hatchback and the sedan will offer the same amount of power and performance capability.
*Not actual vehicle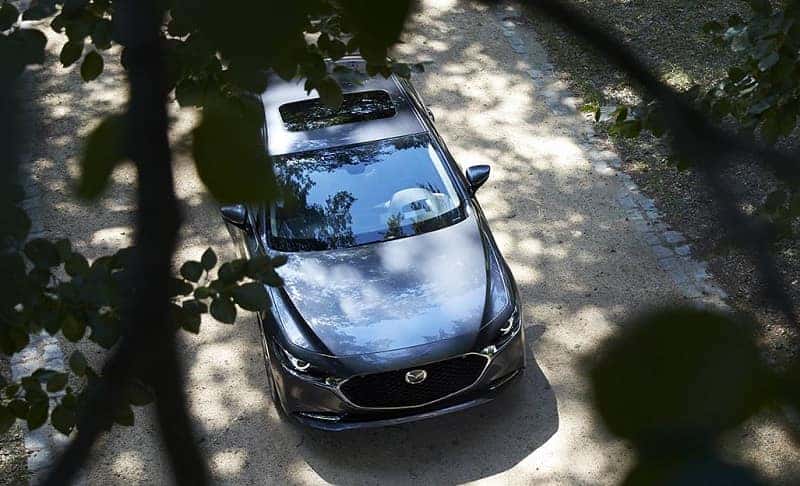 Request 2019 Mazda3 Specials in Huntersville NC
Mazda has spared no expense for this mighty tycoon of a sedan as it hosts a bunch of premium technologies. The 2019 Mazda3 in Huntersville has an impressive six-speaker audio system. On the other hand, vehicle enthusiasts can opt for a 10-speaker Bose system if you would like to receive an immersive listening experience. From keyless entry to a push-button start, consumers will thoroughly enjoy the convenience of these techno gadgets. One of the 3's best features just so happens to be its 8.8-inch center display that's vivid and bold. Other technological features included are HD radio, Apple CarPlay, Pandora radio, two USB inputs as well asMazda Radar Cruise Control.
The Mazda 3 also has a boat-load of safety features for keeping you secure during your daily commute. Preventive safety is the name of the game with this vehicle as it offers blind spot monitoring, Rear Cross-Traffic Alert, Advanced Smart City Break Support as well as Lane Keep Assist technology. In addition to that, the occupants of this sedan will be protected by dual-front airbags and front-seat mounted airbags. There's even a rearview camera as well as whiplash-reducing headrests.
If you reside near Charlotte Mooresville Davidson, then you're not too far away from the 2019 Mazda3 in Huntersville. As you've just read, this vehicle has so much to offer so heading over to Huntersville, North Carolina, will be well-worth your time.